Anvyl White Paper
Unlocking the
Next Level

in Supply Chain Innovation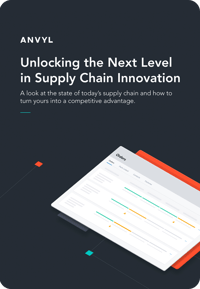 We all get frustrated when we need to make decisions on sourcing, delivery options, or pricing and we can't get access to the information we need. It's in silos or hiding behind our ERP system. We have to make educated guesses but they may not be based on what is really happening.
Anvyl's visibility and automation capabilities provide valuable and actionable insights across your orders, parts and suppliers. Now you can see the real-time status and foresee issues before they occur through our executive dashboard.
Download this white paper to see how you can save time and eliminate additional costs.